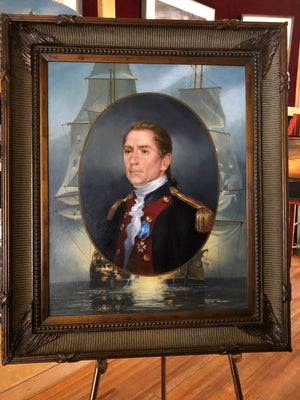 John Paul Jones
Sale price Price $8,400.00 Regular price Unit price / per
40"h x 34"w oil on canvas, wood frame.

One of the most famous naval battles of the American Revolutionary War took place on September 23, 1779. The battle resulted in the American captain, John Paul Jones, becoming the first naval war hero.
In 1779, three years after joining the American Navy, Commodore John Paul Jones assumed command of the 42-gun USS Bonhomme Richard. A French shipping magnate had given the Bonhomme Richard, named in honor of Benjamin Franklin, to America.
In the early morning hours of September 23, 1779, Jones encountered a large fleet of merchant ships near Yorkshire, England being guarded by the HMS Serapis.
The Bonhomme Richard fired one of its big guns at the Serapis, but it unexpectedly exploded, killing crewmen, damaging the ship, and causing the crew to not use the other big guns for fear the same thing would happen with them. The Serapis then used its heavier guns to pound the Bonhomme Richard. At one point, the bow of the Bonhomme Richard ran into the stern of the Serapis, resulting in the Bonhomme Richard's flag falling. When he noticed the flag was down, a universal sign of surrender, the captain of the Serapis asked Jones, "Has your ship struck?" which meant was Jones surrendering. According to a crewman, Jones replied, "I have not yet begun to fight!"
After several hours of fighting, a midshipman from the Bonhomme Richard was able to successfully board the Serapis with a boarding party. They were able to force the crew of the Serapis to retreat from their positions.
After the battle was over, Jones and his crew tried to repair the Bonhomme Richard. They began attempting to pump the water out of the badly damaged ship. At about 4:00 a.m. on September 25, 1779, they ceased pumping because the water level had only continued to rise. At approximately 10:00 a.m., the order was given to abandon ship, and Jones transferred to the Serapis. Approximately one hour later, the Bonhomme Richard sank. After several days of repairing the Serapis, Jones successfully sailed to the Netherlands.
Note: Colors may vary slightly due to different color monitors and screen settings.  To view or purchase in person please email: Katherine@annapoliscollection.com