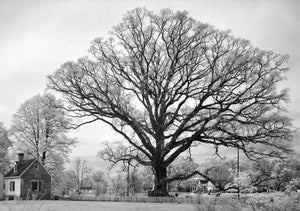 The Great Wye Oak
Sale price Price $35.00 Regular price Unit price / per
This magnificent oak tree was long recognized as the largest white oak tree in the nation. It is believed to have established its roots on the grounds of the Wye Mills estate in Talbot County as early as the 1500s. It wasn't until June 6, 2002, when the mighty Wye Oak succumbed to time and the elements as its massive trunk collapsed during a severe thunderstorm. Weighing over 61,000 pounds, this 96 ft tall tree measured 31 feet 8 inches in circumference and had an average crown spread of 119 feet.
Black and white print, (unframed).
Please allow up to 10 days for delivery.
Note: Colors may vary slightly due to different color monitors and screen settings.  To view or purchase in person please email: Katherine@annapoliscollection.com