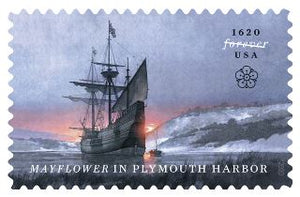 USPS Mayflower Commemorative Stamp by Greg Harlin
Sale price Price $84.00 Regular price Unit price / per
In celebration of the just released beautiful USPS first class stamp "Mayflower in Plymouth Harbor" the Annapolis Collection Gallery is offering signed sheets of these stamps by Annapolis artist Greg Harlin.
The artwork for the stamp was created by Greg Harlin, of Annapolis, Maryland. It was designed using a combination of watercolor, gouache, acrylics and digital refining. The artwork shows the majestic tall ship sailing into Plymouth Harbor as the sun rises behind it surrounded by frost-covered hills.
This commemorative stamp marks the 400th anniversary of the arrival of 102 English passengers off the coast of today's Plymouth, Massachusetts, in 1620. The passengers on the Mayflower would become known to us as Pilgrims, and the story of their colony in America would inspire future generations and become part of the larger story of the nation's founding ideals.
FRAMED Stamp sheet signed by Greg Harlin with 3/4" black frame, stamps under thick 8ply museum white archival matte, $84.00
UNFRAMED Stamp sheet signed by Greg Harlin under thick 8ply museum white archival matte, $46.00
Please contact Katherine@annapoliscollection.com for shipping pricing.