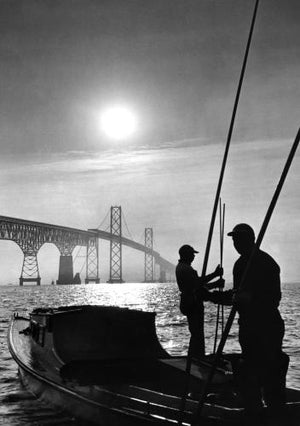 Oyster Tongers
Sale price Price $35.00 Regular price Unit price / per
These watermen are working south of the Bay Bridge when it was still a single-span bridge.
Tonging by hand from the bay bottom is tough, cold, rugged work. Watermen often go out in small boats with rakes on the ends of handles which sometimes measure twenty-four feet in length. Most of the tonging is done in cold weather when ice frequently forms on the handles. The teeth of the rake scrape the oysters off the bottom. (circa 1965)
Black and white print, (unframed).
Please allow up to 10 days for delivery.
Note: Colors may vary slightly due to different color monitors and screen settings.  To view or purchase in person please email: Katherine@annapoliscollection.com